A GCMS MassHunter Qual add-in
It is called SearchReview. Customers used to call it different names: Correlator, Perfume Analyzer or Swiss Knife.
This add-in tackles several time consuming tasks and produces beautiful reports.
Testimony
When we got to know Niels and his Search Review Correlator, the almost unbearable data treatment steps that we carried out with larger GCMS data sets were done in a tiny fraction of the time that we used before. His program is an absolute must for everyone interested in untargeted use of GCMS data.
Kari Olsen and Professor Bjørg Egelandsdal
The Food GC-MS Lab, Norwegian University of Life Sciences
Applications
Initially this add-in was developed to research new perfume formula's with support for Retention Indices and FID quantitation.
Multi-sample correlation was added for stability studies in plastics. Other customers found out that is was useful for a whole range of different applications. Like for QC sample comparison in perfume industry against a standard. Or compare Thermal Desorption runs. Others are using it to compare 200 samples each 200 compounds in food research #awesome.
Then we added our own reporting mechanism with Excel. Customize the template is made easy. All Excel power is still available. Chromatograms are in native Excel format. Peak labels can be configured or manually moved if necessary. Now you can make high quality publications.
Features
Support Retention Indices
Quantitation by FID response with MS calculated response factor
Mutual navigation with MassHunter Qual
Fast customizable beautiful reports in Excel
Multi-sample correlation
There are more features. Lets concentrate on the most interesting. Oher features can be added, just write me about your application.
Multi sample correlation
Lets start with this feature. If you ever tried to correlate results manually in Excel, you will appreciate this. What a time saver! There are many parameters to influence the correlation: RT limit, RI limit, main hit comparison, hit list comparison and it even supports different column polarities. Correlation can be done in multiple passes to compensate for overloaded shifted peaks. It does the job extremely well, but you can still manually overrule the correlation of selected peaks.

In the screenshot:
Vertical: samples, horizontal: correlated peaks
The RT and name of the best match are in the left columns
The Area is displayed, but other peak values can be selected
Double click on a cell, highlights cells with similar spectra
Click here to see an example Excel export.
Retention Indices
MassHunter Qual has build-in support for Retention Indices. But it has some difficulties: It is not so easy to maintain the RI-RT calibration file. Library compounds without RI will appear in the top of the hit list. The standard libraries contains many RI values for different column polarities, but it is not enabled for MassHunter. And reviewing the RI delta penalty is not easy.
SearchReview has a build-in calibration feature. The RI Calibration is done in the following dialog. This was with 2 identical columns in one injection port, one column to the FID, the other column to the MS.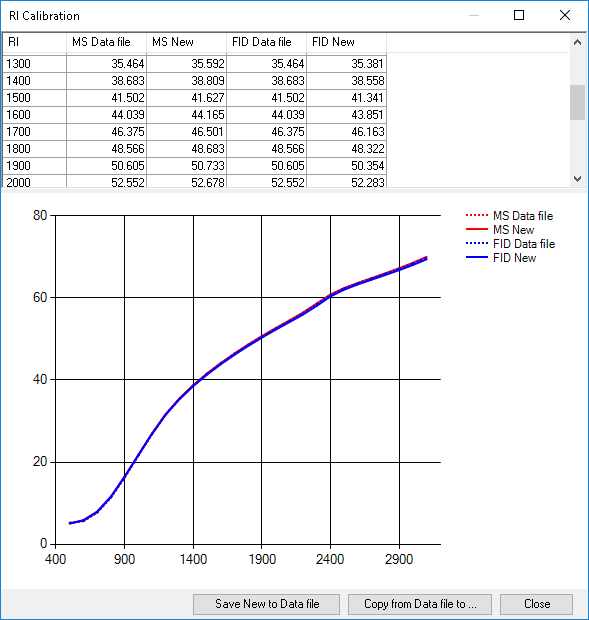 Library search is done in MassHunter. SearchReview will automatically import all results from MassHunter and calculate the delta RI. See here the results in a table, and also showing the hit review menu.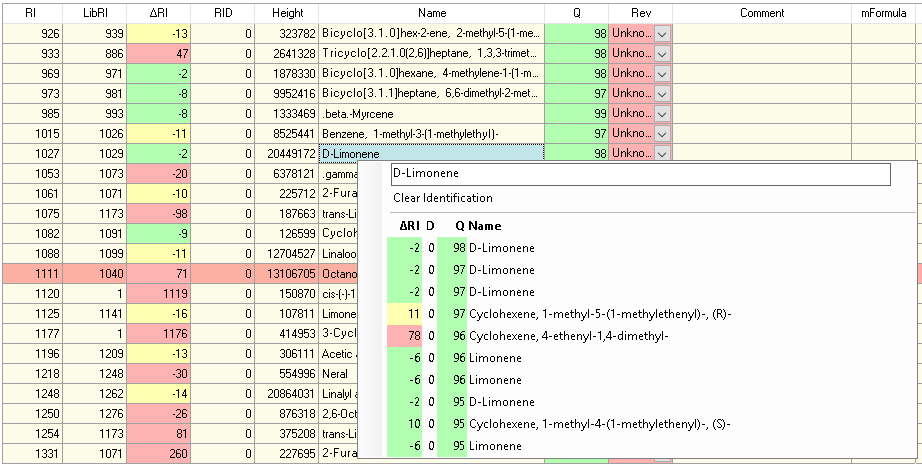 With one mouse click it is possible to append selected spectra (with their actual retention index) in to a library. So! Now you can build your own quality high thru-put review library, fast.
Retention Indices are optional. But it is highly recommended for improving hit review. And… RI can be used in the same run to correlate FID with MS peaks and it can be used to correlate peaks from multiple runs.
Quantitation by FID response with MS calculated response factor
Mutual navigation with MassHunter Qual
Fast customizable beautiful reports in Excel